So if you get bored researching the same old ancestors, you should branch out and find out more about the siblings of the people in your direct line. Following another relative's line can lead to some interesting stories, like the one I'm going to write about today.
Katharine Belknap was my 2nd cousin 3x removed (her grandfather, William, was the brother of my 3x great-grandfather, Thomas Belknap). Katharine was born August 13, 1874 in New Hampshire to George and Jennie (Ranlett) Belknap. George died in 1879. Katharine had a sister, Annie, that died in April 1874 at the age of 2. In 1880, Jennie and Katharine were living with Jennie's parents in Littleton, Grafton County, New Hampshire. Katharine married Robert Plimpton Peckett, a hotelkeeper in Lisbon, New Hampshire, on March 30, 1895 in Littleton. Robert's father, John Wesley Peckett, had been an attorney in New York.
John "had brought his family [to Sugar Hill] to spend healthful summers at John Goodnow's boarding house. In 1876, together with Goodnow, John Peckett constructed the imposing Goodnow House… . When his son Robert was 21, he and his brother John took over the operation of the hotel, changing the name to Franconia Inn, but it was destroyed by fire in 1907."

– Arthur F. March in his Arcadia publication "Franconia and Sugar Hill," 1997, page 82
In 1893, a farmhouse which had been acquired from a Mr. Goodnow was moved across the road, in February 1900 they took in their first guests (from https://skihall.com/hall-of-famers/katharine-peckett-holman/). Depending on the time of the year the U.S. Federal Census was taken, there were varying numbers of people living at Sugar Hill. In the 1900 census (taken on 6-30-1900) of Lisbon, Grafton, N.H., Robert and Katharine were listed with their daughter Deborah (aged 4) and son Robert Jr. (aged 4 months), along with Jennie Belknap (Katharine's mother), a cook, farm hand, gardener, kitchen girl, stable boy, table girl, and stable boss. Robert's father, John Wesley Peckett, died in 1904. Their daughter Katharine was born July 8, 1906.
After the Franconia Inn burned in 1907, the farmhouse mentioned previously became the center of Peckett's-on-Sugar-Hill Inn. In the 1910 census (taken 5-11-1910), Robert, Katherine, Jennie, and the three children, Deborah (aged 15), Robert Jr. (aged 10), and Katharine (4) were listed along with more employees: a farm manager, hotel housekeeper, waitress, pastry cook, kitchen girl, 2 farm laborers, and a gardener.
In the 1920 census (taken on January 21, 1920), Robert, Katharine, and Jennie were living at Sugar Hill. Deborah (aged 24) and her husband Joel Coffin were also living with them. Robert Jr. was 19 and Katharine was 13. Their employees included a "hotel man," a maid, a nurse, a chauffer, 5 waitresses, 2 chambermaids, a dish washer, and 2 cooks.
The First Ski School
Katharine's mother, Jennie Belknap, died in 1926. In 1928, 22-year-old Katharine Peckett spent a Christmas break skiing in Switzerland. She encouraged her parents to visit to show them how Peckett's-on-Sugar-Hill could become a ski resort and school. In Spring 1929 at Sugar Hill, Katharine "supervised and worked at clearing the side hill, adjacent to the now many-winged farmhouse. This became the major slope for the first bona-fide ski school in America in the winter of 1929-30. The first two instructors were German, one being Herman Glatfelder" (from https://skihall.com/hall-of-famers/katharine-peckett-holman/).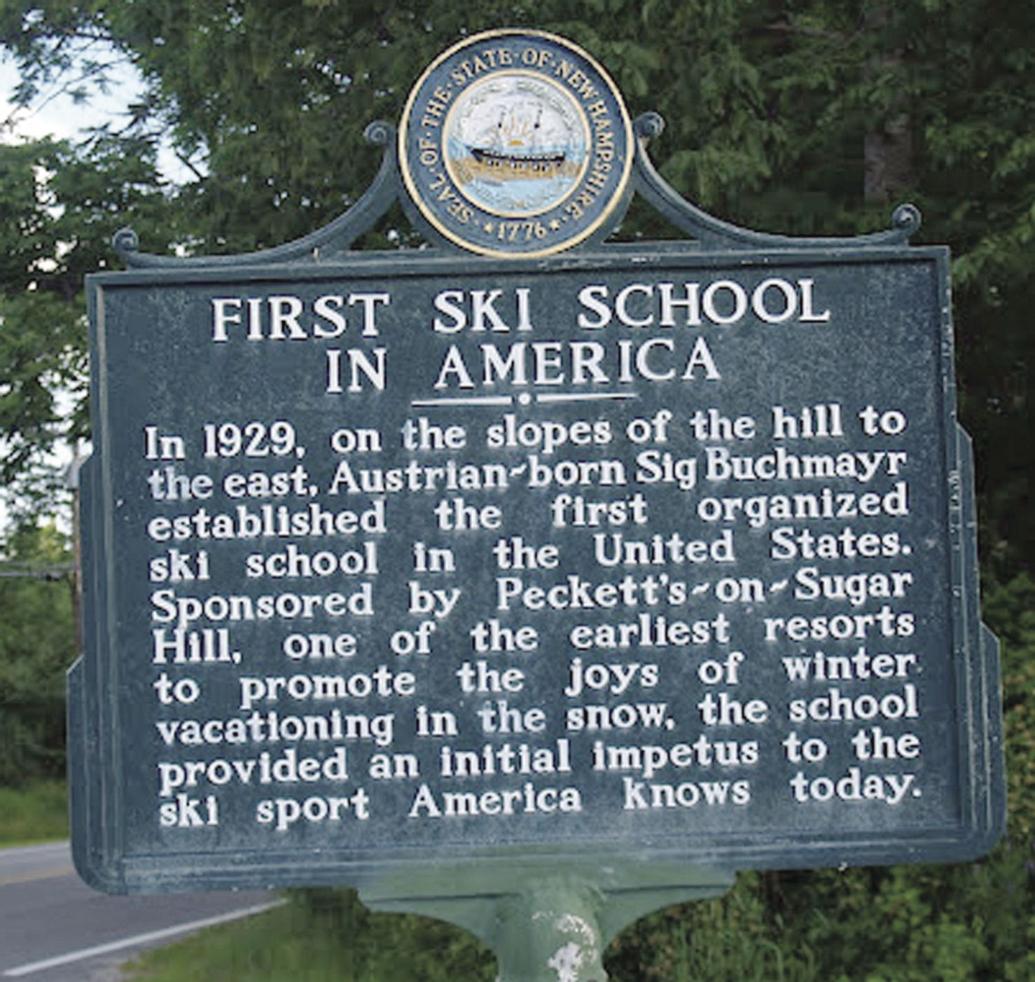 In the 1930 census of 4-30-1930, Robert, Katharine, and young Katharine (aged 23) had a chef, 2 farm laborers, office clerk, and chambermaid at the inn. In the 1940 census (taken on April 8), Robert and his wife Katharine were at the Ritz-Carlton on Madison Avenue in New York City. Katharine died on September 17, 1951 and Robert died in Manhattan on March 6, 1959. They are buried in Elmwood Cemetery in Franconia, NH. Peckett's-on-Sugar-Hill closed in 1967. The original resort building is now gone, but the rest of Peckett's on Sugar Hill is now a wedding venue. Cocktail hours take place on a patio made from the building's foundation. There are also five "cottages" on the estate available to overnight guests, one of which is the "Iris Farm House," on the original dairy farm.
Bette Davis at Sugar Hill
Arthur A. Farnsworth was an assistant manager at Peckett's-on-Sugar-Hill. After finishing two movies in 1939, Bette Davis visited Peckett's for a rest. She turned an old barn into Butternut Lodge and built Butternut Cottage. Davis met Farnsworth and, according to the story, got herself intentionally "lost" in the woods, knowing that he would be the one sent to search for her. They married in 1940.
Arthur died in Hollywood on August 25, 1943 of a skull fracture he suffered during a fall while walking on Hollywood Boulevard. He had fallen down the stairs 2 months before in New Hampshire while running to the phone. In the autopsy, it was discovered that he had a blood clot from that previous fall that caused him to become dizzy and to fall on the sidewalk (from the LA Times).
He was buried at Butternut. In 1945, his family requested that he be re-interred in the family cemetery in Pittsford, Vermont. After this, Bette's visits to New Hampshire lessened. She sold Butternut about 20 years after she first came to the town. After that the plaque pictured above showed up on a boulder in Coppermine Brook.
Lots of good pictures here: https://moviesofcourse.wordpress.com/2017/12/31/the-man-bette-davis-married/